The CoflexPillow will immediately ease the tension in your back while helping to restore your spine to a neutral position.  CoflexPillow is simple to use and its buckwheat core will start to conform and mold to the contours of your lower back providing a firm upward lift.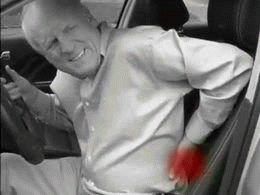 SLEEP ON YOUR BACK OR SIDE
CoflexPillow is designed for both back and side sleepers. Its unique support holds your body in place and ensures lumbar neutrality while you sleep.
SAY GOODBYE TO BACK PAIN
Lower back pain can be a serious problem. It is normally caused by poor posture, obesity, muscle strains, injury to the discs, pregnancy, arthritis and aging. 
Lower back pain can be made worse with poor sleeping conditions. CoflexPillow utilizes buckwheat hulls forming to your body and its ergonomic design works quickly  to treat lower back pain.
Don't let lower back pain keep you from living your best life!
PERFECT PHYSICAL THERAPY SOLUTION
CoflexPillow is suitable for those who have trouble stretching the lower back. CoflexPillow comes in 2 adjustable heights - moderate and advanced.  For those who require a deeper stretch, you can attach the height disk.
FEEL THE DIFFERENCE AFTER 5 NIGHTS
CoflexPillow is simple to use. There are no strenuous exercises involved. Just position your lower back on CoflexPillow's buckwheat core while you sleep and let CoflexPillow do the job.