Stop wasting time on cutting fruits🍉and vegetables🥔
Are you tired and fed up of cutting & chopping vegetables while preparing meals?! Ever think to yourself, how can I make this easier, better?
Do you want to make your vegetables interesting and more attractive, especially for your children? We have the solution!
You need the Chopper Pro Vegetable Cutter to solve your kitchen problems.


What our products do for you?

For most people, cutting vegetables with a conventional knife is far too cumbersome and time consuming. Vegetable dicer choppers were made to make your life easier in the kitchen (especially for women).
Onion chopping is a fairly tedious task that can cause eye irritation. Our onion chipper can help you with this difficult task with a simple push.
Furthermore, with such a chopper slicer dicer usually not only vegetables, but also cut fruit, cheese, various types of sausage and solid meats.
Whatever the reason you buy a vegetable chopper for, it became a vital tool in the kitchen for both fruits and vegetables.

FEATURES

IMPROVE THE CONVENIENCE OF LIFE: If you are looking for a product to cut down your meal prep time. This vegetable chopper will be your best kitchen helper. Any vegetables and fruits that need to be cut..
HIGH QUALITY AND DURABLE MATERIALS: BPA-free, safe and reliable The food grade 420 stainless steel blades, rust resistant and non-corrosive, Don't worry that the blade will bend. This high-quality mandoline slicer will be the last you ever buy and need.
Stainless steel blades: 4 ultra-sharp German 420-grade hardened stainless steel blades will remain sharp and will not rust over time. Ideal for chopping and dicing fruits, vegetables and cheeses in a professional manner, helping you prepare meals in no time. Even the toughest potatoes and the crunchiest carrots will be a piece of cake.
Safe to use: When the top lid is closed, the blade is covered and protected and the fruits and vegetables will be chopped, cut and stored in the transparent container, in which you can follow the progress of your work.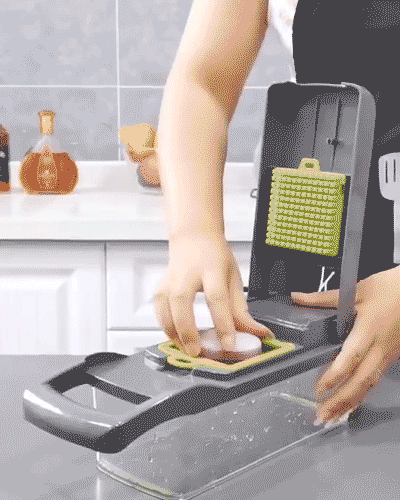 KEEP THE ORIGINAL FLAVOR: Mandoline slicer can quickly cut the cut material into pellets, and it is not easy to lose moisture. Food chopper keeps the original flavor of the fruits and vegetables.

EASY TO DISASSEMBLY AND CLEAN:Use this chopper to replace your traditional cutting method, just rinse with water or put it in the dishwasher, it will has no residue. Perfect gifts for your family.
Specifications

Material: Stainless steel+ABS
Size:32.5*12*12cm
Product Content:
1. Chopping the main board
2. Transparent containers
3. Drop the basket
4. The armguard
5. The parer
6. Cleaning brush
7. Press cutting board
8. 8 kinds of blades
OUR GUARANTEE
Not satisfied with your order? No worries!
Let us know within 30 days and we will give you a stress-free refund.