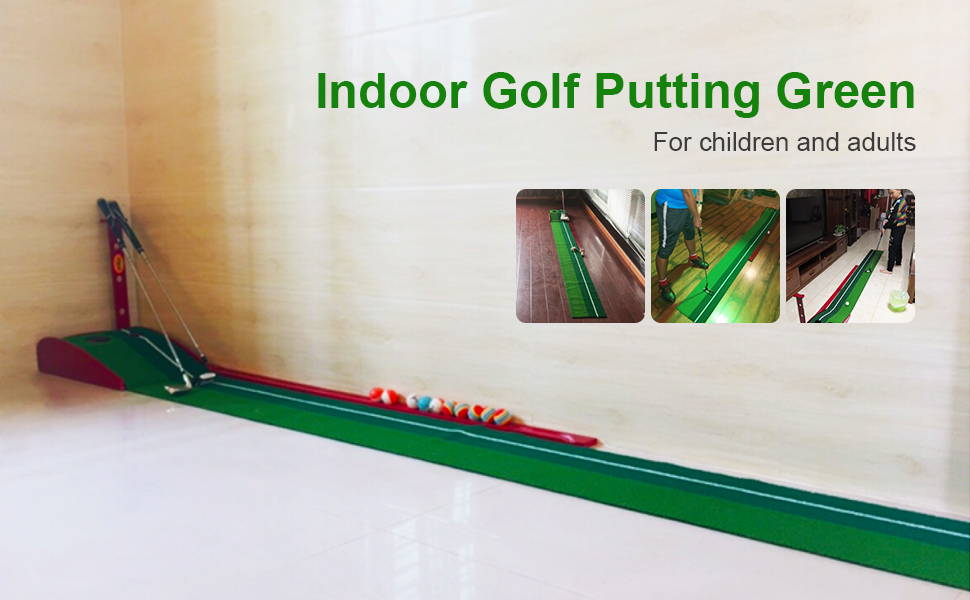 Ideal for placing in the office or at home for a fun time.
The miniature golf course could be played both indoors and outdoors. It doesn't take up a lot of space, only a small strip of space is needed to play golf indoors. The golf putting mat also comes with a few golf balls. You can play at home whenever you want. You can put it away when you don't want to, just fold it up.
You can also add in bumps along the way by slightly crinkling the surface, that will make for a challenging terrain.
If you don't have a golf putter club, choose the putter and putting green set. If you already have golf putters, you could just get the putting green.
No installation, easy set up
---
Each track has two magnetic magnets. Just place them close together and they will naturally stick together. No installation required, children can operate
Two size hole, never bored
---
The putting have two holes of different size.You can switch from easy to difficult levels, it may take about one to three month for you to get bored.
Solid wood, safe and healthy
---
Geometric calculation design with solid wood, it can not only let the ball naturally return under the action of gravity, but also can support up to 60lb.
Don't worry if your dogs step onto it when chase the balls.
Easy to store, takes little space
---
Roll up the green, and put the track on the green. DONE!
It takes very little space when not use. You can put it anywhere, in your office, at home, wherever you like.
---
Life is busy. Our Integrated Auto Ball return helps speed things up. It sends your putts back to you quickly -- make or miss-- so you can putt again.